The TC-75-LL has a conveyor length of 75 feet (22.6 m) and a capacity of up to 600 tph and has a low-level feed hopper that allows the operator to directly discharge loaders and excavators at a much lower power height than standard feed hoppers. With built-in hydraulics, the settings are quick and easy with a maximum angle of 24 degrees and a maximum height of 32'2" (9.8 m).
It folds hydraulically for transport and can be loaded into two containers thanks to its roll on roll off design.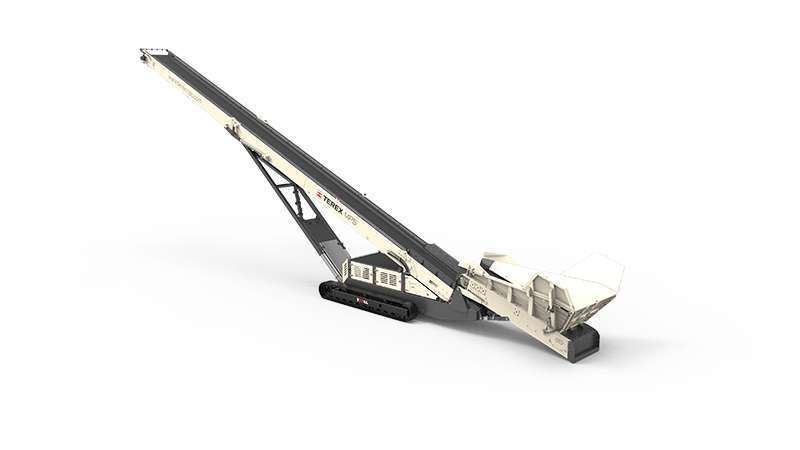 technical specifications
Motorization
Tier 3
Stage 3A CAT 4.4 – 4-cylinder diesel engine developing 83kW (111hp) @1800rpm
Tier 4
Tier 4F / Stage IV – Caterpillar C4.4 – 4-cylinder diesel engine developing 82kW (110hp) – 1800rpm
Tank volume
325 L
FEED CONVEYOR
Capacity
7 m³ (9.2 yd³)
Width
3,500 mm (11'6")
Speed
Up to 11 m/min
Minimum height
1,900 mm (6'3")
DISCHARGE CONVEYOR
length
22.6m (75′)
Width
1,200 mm (48")
Maximum speed
Up to 110 m/min
Discharging height
@18° 8.0m (26'3")
Maximum discharge height
@24° 9.8 m (32'2")
Capacity
More than 600 tph
Belt type
EP400 3Ply 4+2
Storage capacity at 18° based on a 37° resting angle
944 m³ (1.235 yd³)
Maximum storage capacity based on a 37° resting angle
1,735 m³ (2,270 yd³)
OTHER ASSETS
Hydraulic foldable head section, polyurethane belt tensor cleaner, hydraulically adjustable power height, hydraulically foldable conveyor for transport, Rosta scraper, 400 mm wide tracks, front stabilization bar, manual wired track control, two emergency stop buttons, remote control of tracks.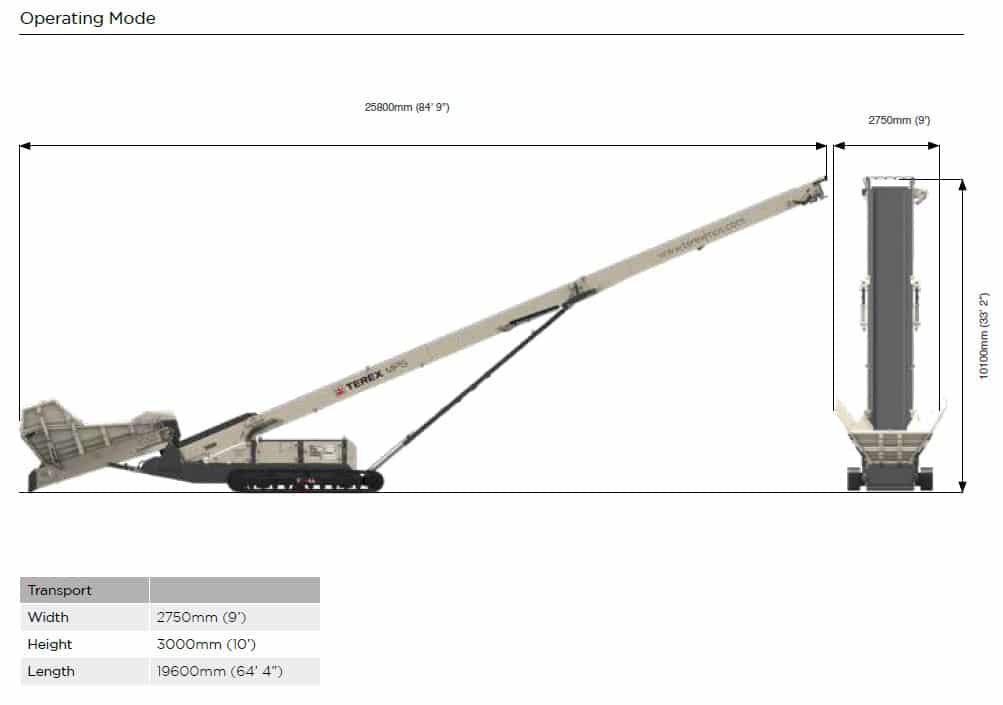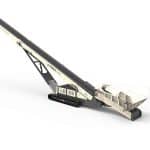 Brochure TC-75-LL (EN)
Votre courriel / Your email :
Are you interested in this machine?