The Terex Finlay I-100RS horizontal impact crusher has been specially designed for quarrying, recycling and demolition. The I-100RS is equipped with a direct-drive impact chamber of 860 mm x 860 mm (34″x 34″) at variable rotor rotation speed. The advanced electronic control system monitors, monitors and regulates the speed of the VGF (vibrating grizzly feeder) with built-in pre-screening, in order to maintain a constant material supply in the impact chamber while maintaining a optimal crushing capacity.One of the key components of the machine is the 2.44 m x 1.2 m (8 ft x 4 ft) integrated screen. For applications that do not require recirculation of materials for further processing or storage, the screening and recirculating system can be detached from the machine. The machine provides operators with high material reduction reports and produces a consistent product classification.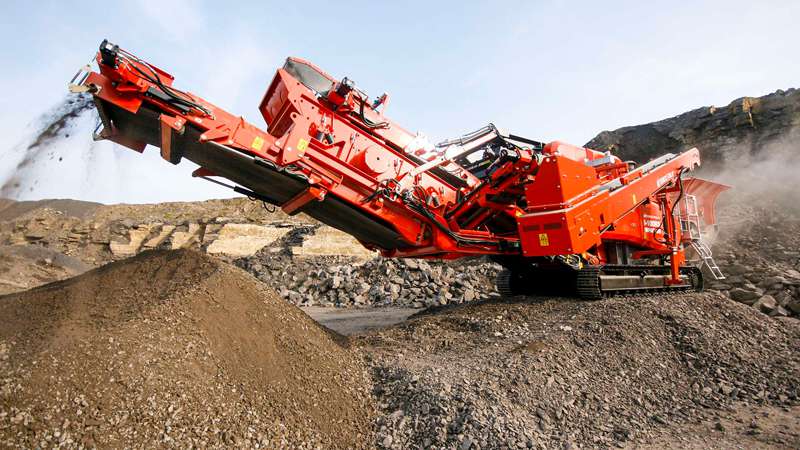 technical specifications
Motorization
Tier 3
Tier 3 / Stage IIIA: Caterpillar C7.1 Acert – 250hp (186kW)
Tier 4
Tier 4F / Stage IV: Caterpillar C7.1 – 275hp (205kW)
IMPACT CHAMBER
Rotor diameter
Ø860 mm (34")
Width of the rotor
830 mm (33")
Maximum feed size
350 mm
Type of blowbar
Martensitics, ceramics and high chrome
HOPPER / FEEDER
VGF hopper capacity
2.3 m³ (3.01 yd³)
VGF feed height
3,770 mm (12'4")
VGF width
2,260 mm (7'5")
Speed of the hopper
450-850 rpm
SCREEN
Size
2.44m x 1.2m (8′ x 4′)
Speed
1,100 rpm
Screening surface
2.97 m² (32 sqft)
MAIN CONVEYOR
Band width
900 mm (52")
Discharge height
3.25 m (10'8")
Storage capacity
@40° 51 m³ (66.7 yd³)
Speed
110 m/min
FINES CONVEYOR
Band width
1,000 mm (55")
SECONDARY CONVEYOR (OPTIONAL)
Band width
500 mm (20")
Discharge height
2.03 m (6'8")
Storage capacity
13.8 m³ (18 yd³)
Speed
70 m/min
RECIRCULATION CONVEYOR
Band width
500 mm (20")
Speed
90 m/min
OTHER ASSETS
Centralized control panel, prepared for dust removal, galvanized walkway with railing, foot protection and access ladder,
robust chassis with 400 mm (16″) wide tracks, wired remote control with cable, protections compliant with the Machinery Directive, emergency stops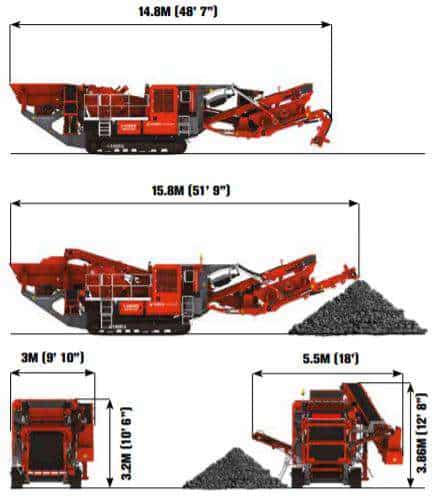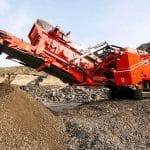 Brochure I-100RS (EN)
Votre courriel / Your email :
Get your pair of Voghel cardboards for free!
Are you interested in this machine?