The B-66T is a fast grinder suitable for large volumes, whether for coloured mulch, pet litter or other synthetic fiber products. The B-66T simplifies high-volume reduction with exclusive features designed to maximize your working time and finished product quality.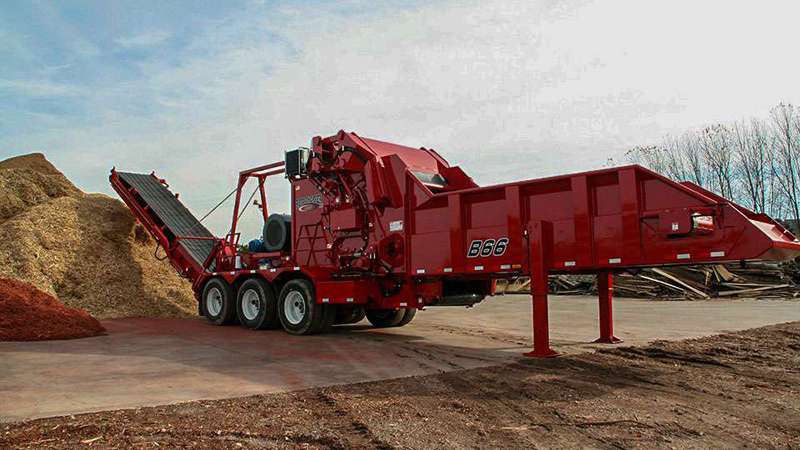 technical specifications
Motorization
Power

755 – 1,050HP (563 – 783 kW)

Tank capacity
1,287 L (340 gal)
SHREDDING CHAMBER
Rotor size
1,680 x 1,070 mm (66" x 42")
Rotor diameter
140 mm (5.4375")
HOPPER / FEEDER
Power opening
1,680 x 910 mm (66" x 36")
Power conveyor
1,680 x 5,900 mm (66" x 19′)
Power roll
1,680 x 810 mm (66" x 32")
Speed of the hopper
Variable
MAIN CONVEYOR
Band width
1,220 mm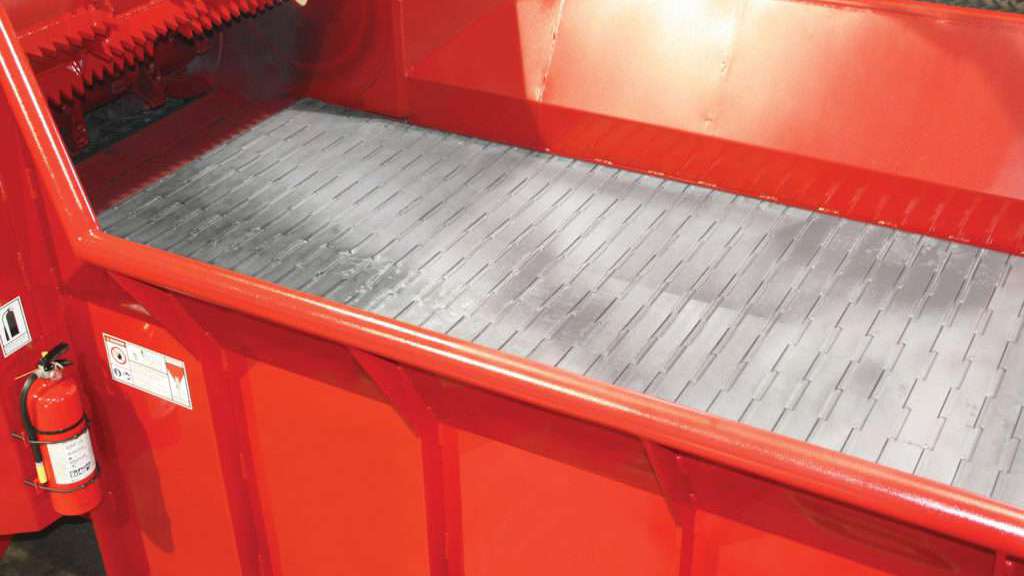 The steel slat infeed conveyor provides the raw material to the grinding chamber with less spillage and wear than alternative conveyors. Furthermore, a unique infeed transition forces the loose material into the rotor for one-pass reduction.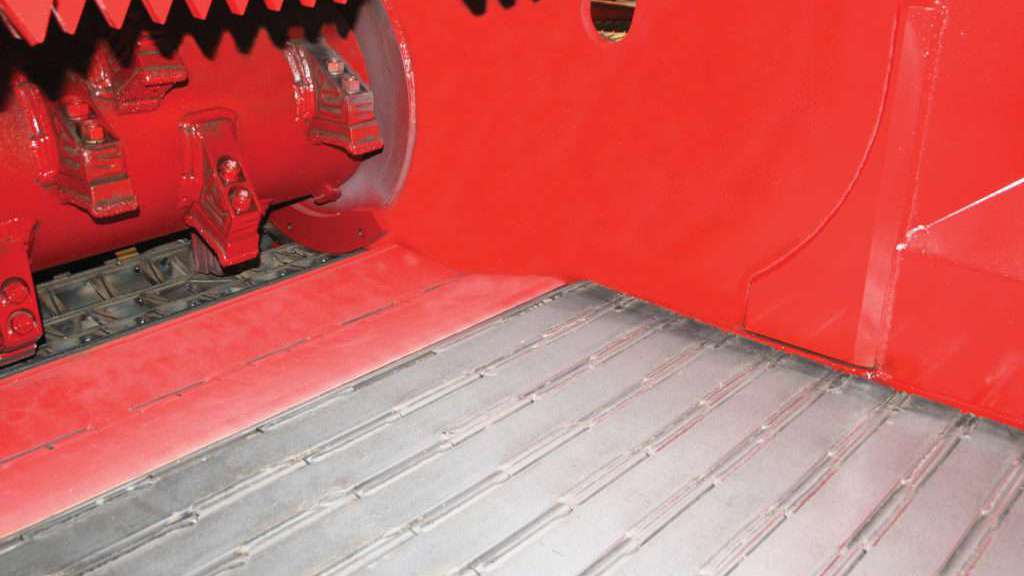 The patented adjustable ramp entry plate allows the operator to hydraulically lift or lower the height of the cutting anvil relative to the rotor. Raising the anvil allows for smooth treatment of the folding base materials while the lowering of the ramp offers more aggressive grinding angles.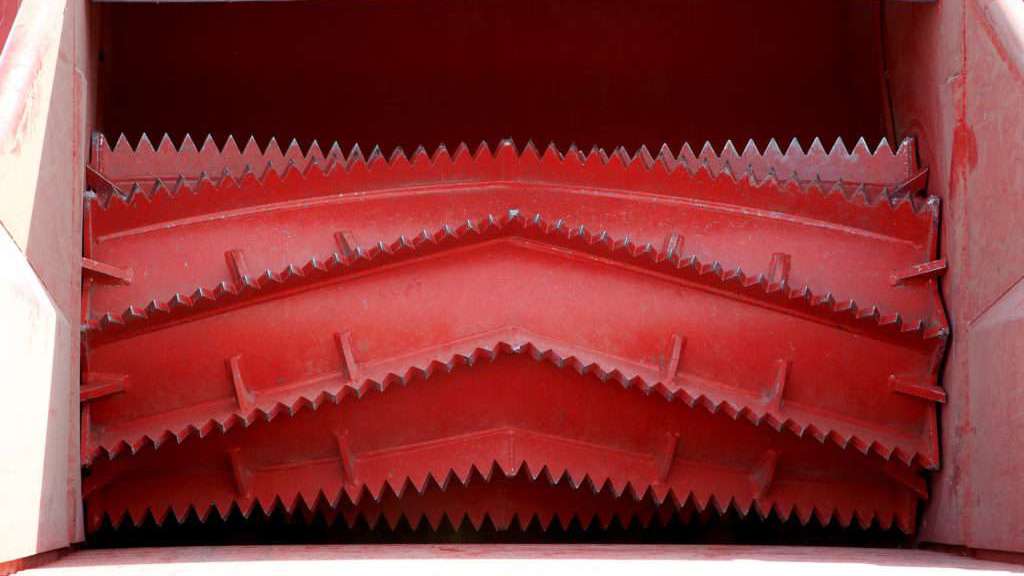 Concentric Lift Powerfeed keeps the powerfeed roller close to the rotor throughout its lifting journey for improved power speed control. This patented system creates the most aggressive powerfeed roller in the industry and generates unmatched compression force to reduce difficult raw materials.
The patented screen installation system provides simplicity and efficiency when changing them. Our system allows operators to quickly change screens, reduce downtime and improve versatility, without having to pay for special lifting equipment, fasteners or tools.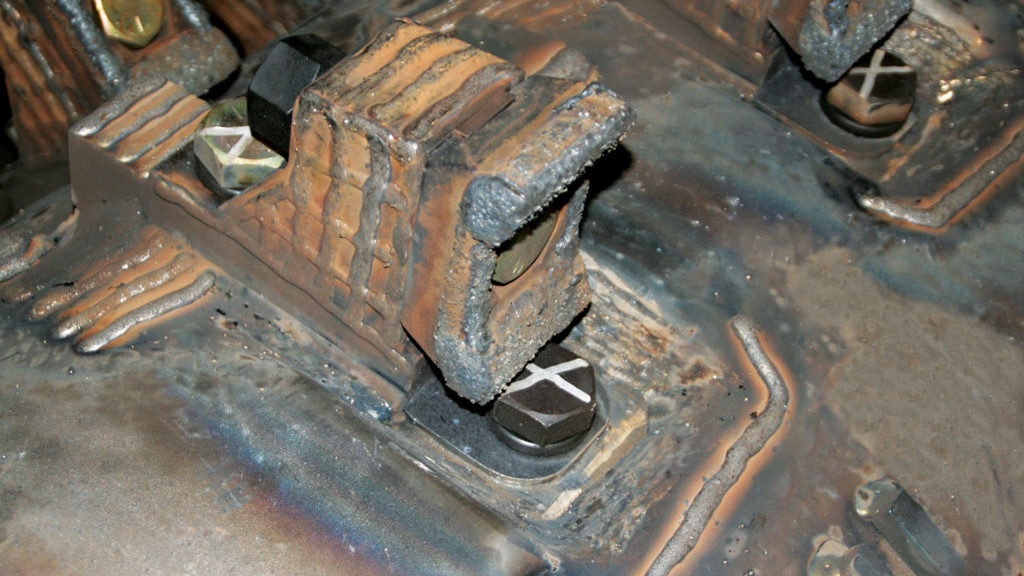 The teeth fasteners on the rotor are replaceable thanks to a patented system that allows operators to quickly change them without lifting equipment, discs, locking collars, interdependent supports or other special tools. The patented design reduces stress on bolts when large impacts occur.
Thanks to our patented process, any Rotochopper grinder can transform virtually all clean wood fibers into premium landscape mulch with the size, texture and colours demanded by consumers.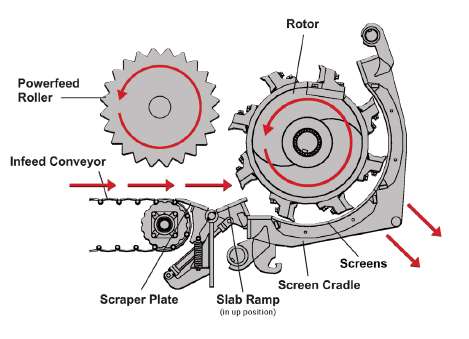 The remote monitoring system allows you to get help in real time with customer support, predict maintenance needs and reduce downtime. By tracking and adjusting your operating settings, you consistently get the results you need, at the lowest operating cost.
Many users can work together via a live connection on a smartphone or computer to monitor and adjust critical settings from anywhere in the world. Use RotoLink to monitor maintenance time, vibration and bearing temperature, engine data and production data. Match the reduction settings to a new raw material without leaving the loader's cabin and analyze production costs from your office using weekly or monthly reports on machine condition.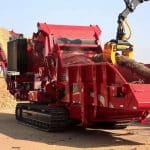 Brochure B-66T (EN)
Votre courriel / Your email :
Are you interested in this machine?