The TDS 820E mobile electric slow shredder has customizable grinding programs allowing operators to configure the machine according to their specific needs, reduce material packaging and maximize production. Designed with independent drive shafts, this dual-shaft slow speed shredder is guaranteed to give machine operators excellent performance even in the toughest applications.
Its main features include an electric/hydraulic hydrostatic drive that provides increased protection against contamination and allows for bidirectional shredding. The 2-meter-long shafts are made with a configuration of fully welded teeth, which allows for massive flow and excellent material reduction. Its independent gears allow each shaft to operate separately, which reduces the winding of the material and ensures the efficiency of grinding operations.
Other features include the tilt feeder that increases the feed surface. Hopper extensions increase capacity in large applications. The machine is operated using a small on-board tracking engine that powers the robust tracked undercarriage.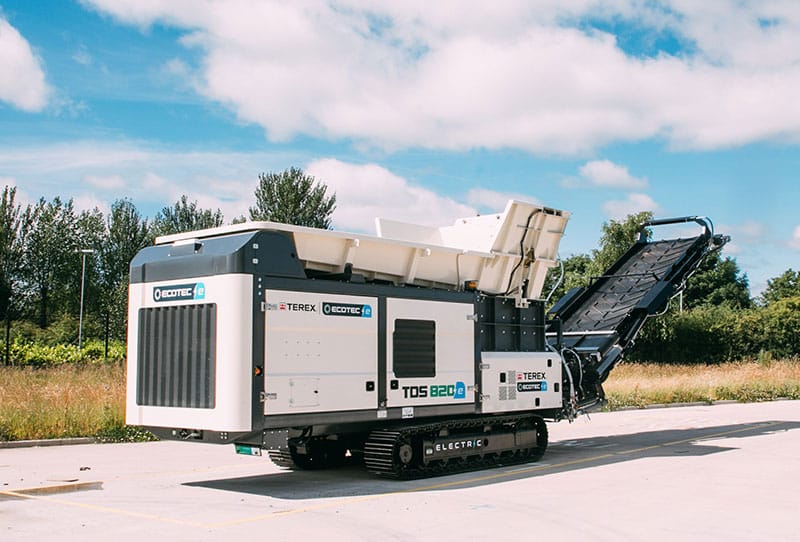 technical specifications
Motorization
Electric motor
280kW (375HP)
Engine
Cat C2.2 55kW (75HP) Stage V/Tier 4
Drive
Double Hydrostatic
SHREDDING UNIT
Type
Slow-speed twin shaft
Length of the shaft
2,000 mm
Shaft diameter
700 mm solid
Torque per shaft
100,000 Nm
Feeder capacity
7 m³
TRANSFER CONVEYOR
Width
1,300 mm
length
2,450 mm
Speed
130 m/min
MAIN CONVEYOR
Width
1,400 mm
length
5,500 mm
Speed
130 m/min
Discharge height
4.3m
OTHER ASSETS
Magnet, different tree configurations, hydraulic foldable hopper extensions, sturdy chassis with 500 mm (20″) wide tracks
Are you interested in this machine?