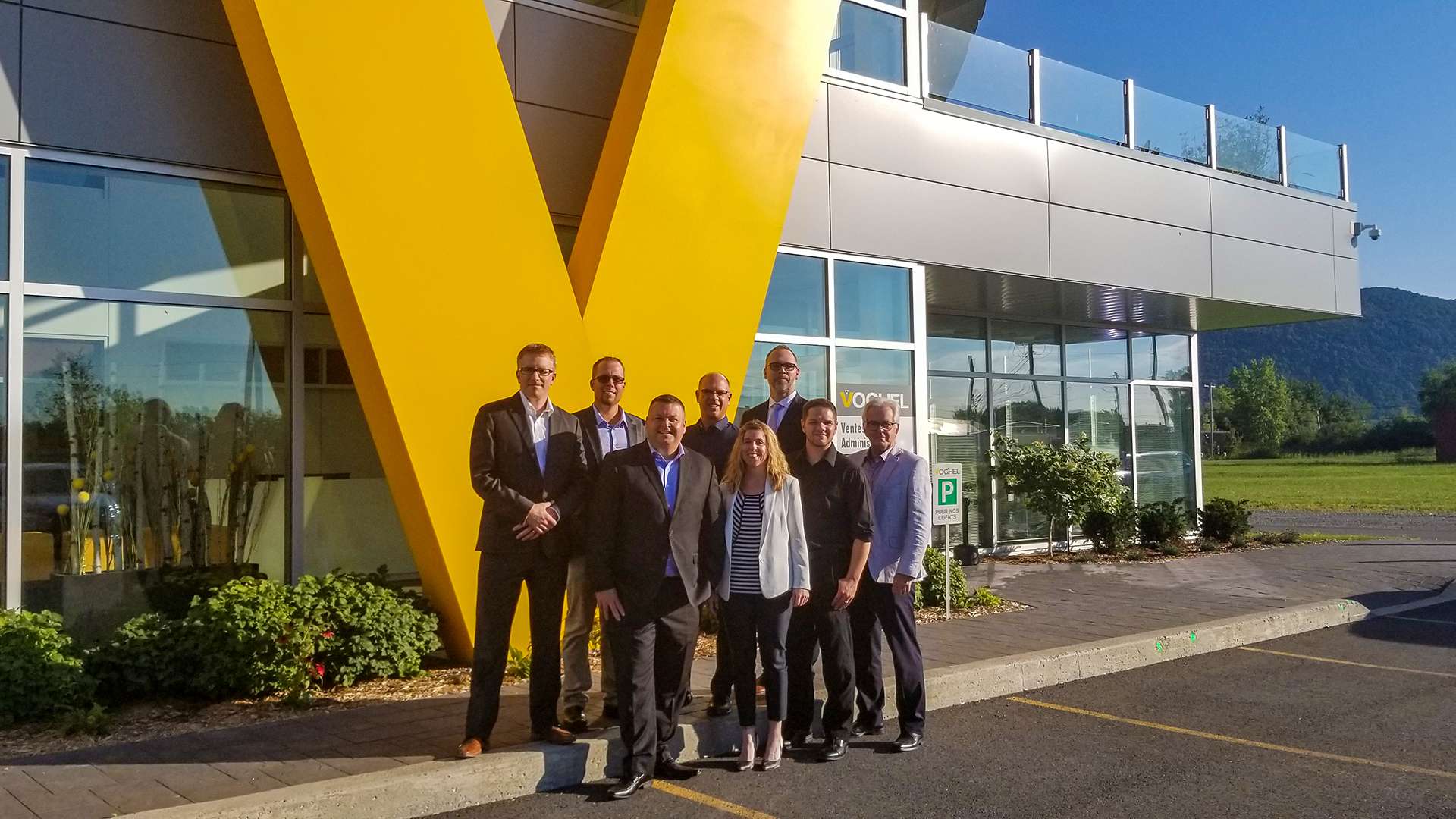 FOR IMMEDIATE PRESS RELEASE
Building on an organizational culture and strong values, Voghel's team will stand out more than ever for excellence in customer service.
Mont-Saint-Hilaire, Quebec, July 02, 2019 Appointed to Voghel's CEO less than two years ago, Dany Michaud recently became the company's largest shareholder and president. The company's founder, Jean-Yves Voghel, as well as many employees, complete the shareholding. Mr. Voghel will remain as an advisor until the end of the year.
"I am extremely pleased with the work that has been done over the past 23 years and proud of what the company has become today. I pass with serenity and great confidence the torch to Dany and the whole team, in order to pilot Voghel's destiny for the future. I am confident that Dany and his team will be able to preserve the values that have made Voghel a leader in the crushing and environmental industry," said Jean-Yves Voghel, founder of the company.
"I am particularly excited to succeed Jean-Yves and to usher in Voghel's new era of growth as a team, which will be more focused than ever on excellence in customer service," said Dany Michaud, new President of Voghel.
Customer service excellence
In the last three years alone, Voghel has doubled the size of its team, the number of technicians and mechanics in its workshop, the size of its sales team,the value of its inventory. of equipment,as well as the value of its inventory of parts.
Voghel now has one of the largest inventory of parts in the industry and has the largest ratio of technicians compared to the number of equipment in operation with its customers, two pillars of the service strategy company's customer base.
"If we have recently invested so much in our development and we want to continue to do so with the same ardor, it is because we are doing everything possible to simplify the lives of our customers in the environmental and construction sectors. We know that every minute of stoppage on a construction site or operation results in unforeseen costs and delays and we have the ambition to be recognized as the partner who best understands the efficiency imperatives of its clients' projects and responds to them the most effectively," added Dany Michaud.
In recent months, Voghel has made every effort to support this vision, notably through the deployment of new technical units on the road and the addition of new ranges of quality equipment to its offering. In fact, last April, Voghel announced that it had been chosen as the exclusive distributor of Terex/Cedarapids equipment in Quebec.
About Dany Michaud, MBA, CSA
An experienced manager and entrepreneur at heart, Dany Michaud has held various management positions in organizations in the manufacturing, industrial and environmental sectors over the past two decades.
Prior to joining Voghel in early 2018 as Managing Director and becoming President in 2019, he served as President and CEO of RECYC-QUÉBEC and General Manager of Moisson Montréal, the largest food bank in Canada. He previously held senior operations roles for various agri-food industry leaders.
Dany holds an MBA from the School of Management Sciences (ESG UQAM) and is a graduate of the College of Directors of Laval University (certified Corporate Administrator – CSA). Involved in his community and regularly present in the media, Dany lives in Mont-Saint-Hilaire with his family.
do you have any questions about this transition?