The Terex Finlay TF-50L mobile conveyor with low feeder has been designed to maximize productivity, improve efficiency and reduce on-site operational costs in a wide range of applications and types of feed materials.
The large 7m³ (9.2yds³) hopper with a feed height of 1,900mm (6'3″) and a width of 2,100mm (7'1″) allows power from below directly from excavators, grab cranes and wheel loaders. For on-site safety and quick installation, the hopper is equipped with hydraulically folding sides as standard.
The ability to feed the material from all three sides allows the TF-50L to be easily integrated into open or closed crushing and screening circuits.
As part of a crushing and screening application, the machine can be used for a "measured or controlled" feeding of the material. The machine can also be used to power auxiliary equipment, connect to additional conveyors to transfer materials and to directly load/unload ships, trucks and wagons.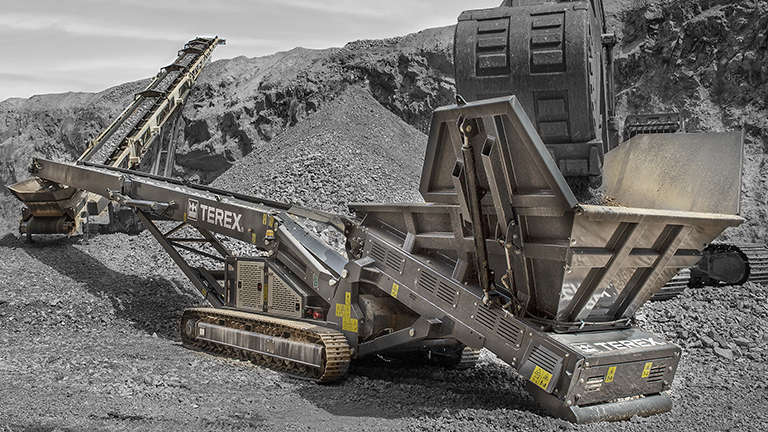 technical specifications
Motorization
Tier 3
Stage 3A CAT 4.4 – 4-cylinder diesel engine developing 62kW (83hp) @2300rpm
Stage V
Stage V – Caterpillar C2.2 – 4-cylinder diesel engine developing 55kW (74hp) @ 2300rpm
FEED CONVEYOR
Capacity
7 m³ (9.2 yd³)
Minimum height
2,700 mm (8'9")
DISCHARGE CONVEYOR
length
15.6 m (51'2")
Width
1,050 mm (42")
Discharging height
@18° 5.9 m (19'4")
Storage capacity at 18° based on a 37° resting angle
290 m³ (379 yd³)
Maximum discharge height
@24° 7.2 m (23'8")
Maximum storage capacity at 24° based on a rest angle of 37°
583 m³ (762 yd³)
OTHER ASSETS
Hydraulic foldable head section, polyurethane belt tensor cleaner, hydraulically adjustable power height, hydraulically foldable conveyor for transport, Rosta scraper, 400 mm wide caterpillars, front stabilization bar, manual wired track control, three emergency stop buttons, remote control of tracks.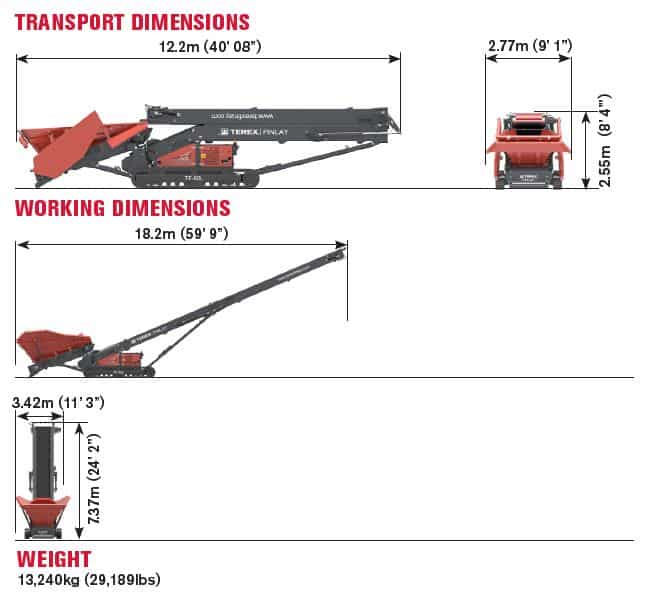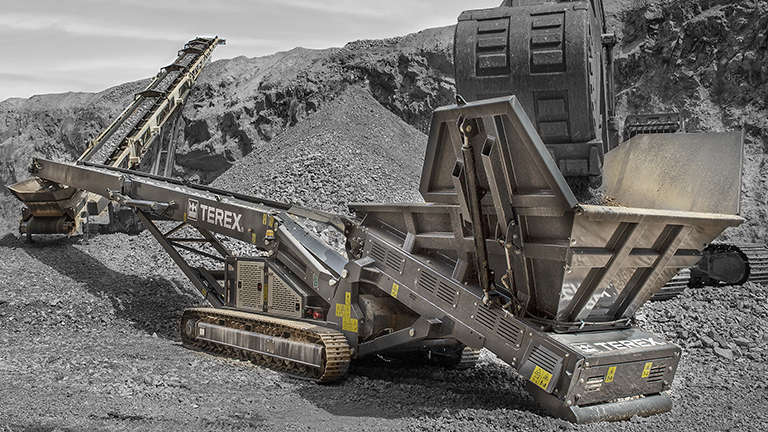 Brochure TF-50L
Votre courriel / Your email :
Get your pair of Voghel cardboards for free!
Are you interested in this machine?